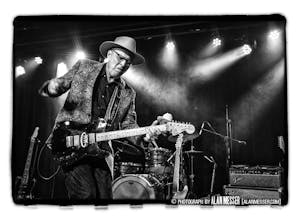 Webb Wilder
Duling Hall
Jackson
,
MS
$12.00 - $15.00
Postponed
See Webb Wilder LIVE at Duling Hall on Saturday, May 16th!
Ticket Information:
Doors open at 7:00 PM, and the show begins at 8:00 PM.
General admission tickets are $12 advance and $15 day of show.
General Admission tickets are standing room only. First come, first served.
There will be an upcharge of $5 for persons under the age of 21.
About Webb Wilder:
A native of Hattiesburg, Mississippi, Wilder moved to Austin, Texas in 1976 with his friend since junior high, Bobby Field, who would later co- found the Beatnecks with him as well as write many memorable songs and produce several earlier records. After moving to Nashville, Wilder and Field formed the Beatnecks in 1985. As Nashville moved toward unapologetically commercial fare, Wilder and Field were busy crafting their signature brand of rock 'n' roll, founded on classic influences from both sides of the pond. The band's debut, IT CAME FROM NASHVILLE, a brazenly rocking bar-band rave-up (also available from Landslide) was recently named by PASTE Magazine as one of the 50 Best Southern Rock Albums of All Time. Wilder's subsequent releases, HYBRID VIGOR, DOO DAD, TOWN & COUNTRY, ACRES OF SUEDE, ABOUT TIME, BORN TO BE WILDER (live) and MORE LIKE ME, have continually maintained the high standard set initially, becoming textbooks for aspiring roots rockers and showing there was (and is) a vibrant market for their hybrid brand of rootsy musical gumbo. In its review of Wilder's most recent release, MISSISSIPPI MODERNE, GUITAR PLAYER Magazine called Webb "a national treasure."
Music critics have always warmed up to the Webb Wilder juggernaut. The Associated Press described the band's music and stage performance as "a glorious amalgamation of grunge chords, killer grooves, Screamin' Jay Hawkins theatrics, a healthy sense of humor, and great pop melodies." It's "full of wit and personality, and devoid of technological or conceptual gimmickry," added the Houston Post.
Learn more about Webb Wilder below:

Venue Information:
Duling Hall
622 Duling Ave
Jackson, MS, 39216