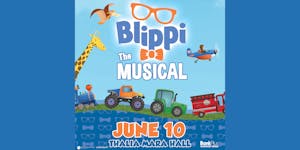 Presented by Ardenland / Part of the BankPlus Concert Series
Blippi The Musical
Thalia Mara Hall.
Jackson
,
MS
$22.00 - $52.00
Postponed
On Ticketmaster
Join the fun with Blippi The Musical LIVE in Jackson, MS at Thalia Mara Hall on Wednesday, June 10th!
About Blippi The Musical:
Woooooo, we are sooooo excited, because for the first time you can see BLIPPI in his newest adventure, Blippi the Musical!
You and your whole family are going to have so much fun, dancing, singing and meeting amazing new friends LIVE on stage in Jackson, Mississippi!
Wow look at that! It's a plane, a tractor, a fire truck and a train, just some of the many discoveries we're going to make together!
Stevin John is the creator of Blippi and acts as the writer and creative force behind the Blippi character. Now that Blippi has evolved as a character he is excited that a dynamic stage performer has been cast as Blippi to entertain and thrill audiences across all of the tour markets.
Learn more about Blippi The Musical!
Venue Information:
Thalia Mara Hall.
255 EAST PASCAGOULA STREET
Jackson , MS, 39201