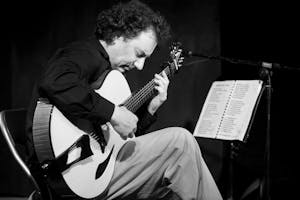 Pierre Bensusan
Duling Hall
Jackson
,
MS
$20.00 - $25.00
Postponed
See Pierre Bensusan LIVE at Duling Hall on Wednesday, June 24th!
Ticket Information:
Doors open at 6:30 PM, and the show begins at 7:30 PM.
General admission tickets are $20 advance and $25 day of show.
This is a general admission, seated show. Any seating is general admission and available on a first come, first served basis.
There will be an upcharge of $5 for persons under the age of 21.
About Pierre Bensusan:
"The way the guitar would want to sound if it played itself."
"Bensusan is very much his own animal. It's like listening to a butterfly, to dappled sunshine coming through quaking aspens. His music flits and darts around like fish in a pool. And his compositions manage to encompass both the calmness of the pool and the flashing of the fish. It's an entrancing, almost hypnotic thing to watch and hear, as he seems eager to share his journey, his light. I was struck by how the aim of each song was to be beautiful. Not witty, not avant-garde, not new, necessarily, but beautiful. A great craftsman plying his trade. A shepherd with his flock. As I left I felt all of a sudden that I'd been to temple after all. My own sort of temple, and by the end of the service I felt purified, cleansed, and ready for the new year."

Venue Information:
Duling Hall
622 Duling Avenue
Jackson, MS, 39216